Garden loungeset
When you think of luxury garden lounge sets, you immediately think of Outdoor Lifestyle. If you want a unique place to relax in your garden or to receive friends and family, Outdoor Lifestyle is the place for you.
With our luxury garden furniture in your garden or on a terrace, you can relax and enjoy the outdoors in your own garden thanks to our comfortable sofas.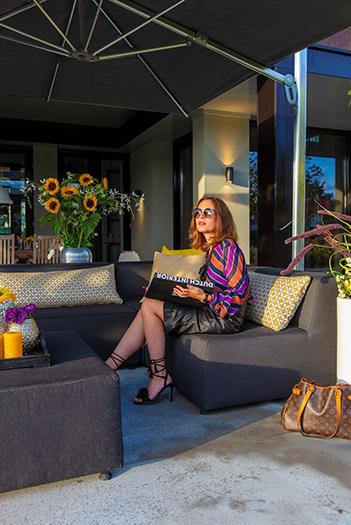 Garden LOUNGE SET WITH A UNIQUE DESIGN
We are specialists in luxury lounge sets with unique design of high quality. Our design outdoor sofas are real eye-catchers on every terrace. Moreover, our design garden sets are exclusively designed and manufactured by Outdoor Lifestyle in the Netherlands. In this way, we are able to guarantee the high quality we strive for.
An Exclusive lounge set in your garden?
When you have the space, a lounge set is one of the best additions to your garden. But even when space is limited, create a lovely living room in your garden with a self-composed luxury lounge sofa. A great advantage of Outdoor Lifestyle lounge sofas, is the modular system and the choice from a wide range of fabrics and different compositions. We would like to design the ideal lounge sofa for your garden, together with you of course!
Luxury garden lounge sets for all weather
Outdoor Lifestyle's lounge sofas can be left outside year round, without the furniture being damaged. A weatherproof lounge set provides great convenience. This means you don't have to move the cushions inside and outside every single time. Wondering why our luxury lounge sets are weather resistant?
UNIQUE LOUNGE SETS WITH WEATHERPROOF MATERIALS
Our special lounge sofas can be left outside because they are made of the best and most durable weather-resistant fabrics, combined with an extremely strong aluminum frame. Not only the outdoor sofa itself, the decorative cushions are weatherproof as well. This saves a lot of trouble, because you do not have to carry the cushions every single time. Moreover, this saves a lot of storage space at home. Our lounge sets have proven that they are able to remain outside during all four seasons.
WATER-PERMEABLE LOUNGE SETS – ENJOY WITHIN NO-TIME, EVEN AFTER THE RAIN
Thanks to the use of Quick Dry Foam, the cushion fillings are water resistant. Quick Dry Foam does not hold water, it runs directly through it. In addition, this is processed in such a way that mold does not have a chance. The best, fastest drying cushions are composed with Quick Dry Foam and a cover of Sunbrella fabric. This allows you to enjoy your lounge sofa again almost immediately after the rain is gone.
4-SEASON LUXURY LOUNGE SETS WITH WEATHER-RESISTANT DECORATIVE CUSHIONS
Thanks to the Sunbrella fabrics, the cushions are not only water repellent but also stain resistant and even UV and color resistant. All Sunbrella fabrics have had a special treatment, so little or no moisture is absorbed. Unpleasant stains and greasy substances are therefore not absorbed either. In addition, all fabrics are woven so that, even after many hours of exposure to the sun, the colors remain beautiful and do not fade.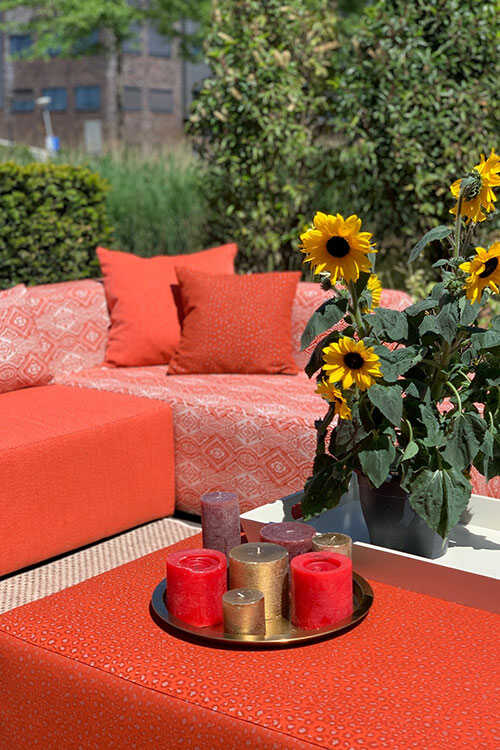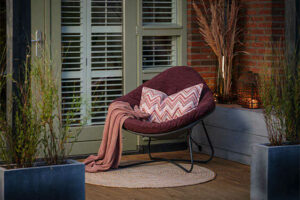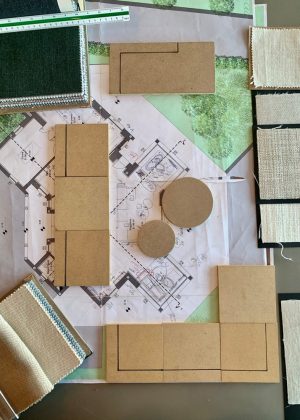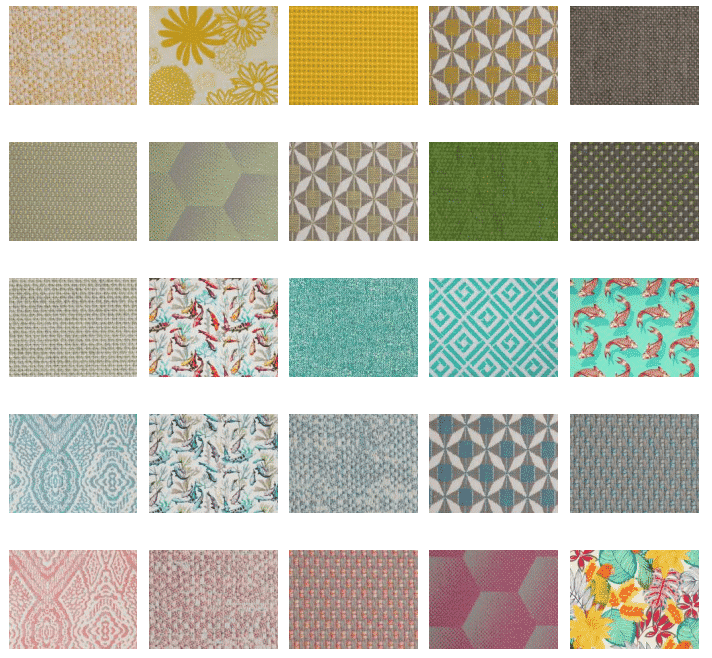 Compose your own luxury garden lounge set
Want to compose an exclusive lounge set yourself? Our lounge sets consist of different modules, each of which you can purchase separately. This gives you the opportunity to compose your own lounge set to your liking. By making your own choices, you receive a lounge set to your liking. A very unique lounge set at that! Choose from up to 300 different prints and colors of Sunbrella.
UNIQUE LOUNGE SET WITH MODULAR SYSTEM
In addition to the different colors and prints you can choose from, you can also choose your own composition thanks to a unique modular system. So you can determine your own arrangement. For example, you can choose a chaise longue, a lounger or lounge set with corner. In addition, we can also assist you in providing matching accessories.
LUXURY garden LOUNGE SET DESIGNED TO YOUR OWN WISHES
Design your own lounge set. Enjoy your own unique lounge set thanks to the many variations and possibilities. Besides that, you can choose your own composition, you can also choose from up to 300 different prints and colors of Sunbrella. In this way, you are able to design your complete lounge sets to your own liking. We will gladly help you do so. You can visit our showroom, but we can also visit you.
Our garden loungesets are made in Holland
Our luxury garden lounge sets are made of Dutch quality fabrics. All our products are designed and manufactured in the Netherlands. This not only has the advantage that we are able to guarantee our quality, but also that we are able to deliver quickly.
HIGH QUALITY LUXURY LOUNGE SETS
Our garden lounge sets are of the highest quality possible. To ensure this quality, we believe it is important to keep the production nearby. This allows us to keep everything under tight supervision and communication is always possible. For the frame and upholstery of the cushions, we work together with family businesses who know their trade and deliver consistent quality.
LOUNGE SET WITH ALUMINUM FRAME
The frame of the lounge set is the base. The base has to be rock solid. The lounge set can look so beautiful on the outside, but it must look even better on the inside. Our luxury lounge sets are made of a very strong, permeable aluminum plate frame. We are absolutely unique in this respect. We dare to guarantee this quality and you also get 10 years warranty on the frame.
WE GUARANTEE FAST DELIVERY
Because the production takes place in our own country and we communicate in a direct manner with our suppliers, we are able to deliver our lounge sets within two weeks after the agreement of the design. Once you have ordered a luxury lounge set and the weather is nice, you can't wait to enjoy it in your own garden. Therefore we do our utmost to deliver your exclusive garden furniture in your garden as soon as possible.
PRICES OF OUR LOUNGE SETS
Because our garden lounge sets are custom made products, you will not find any prices on our website. We will be happy to put together a custom quote for you.
WANT MORE INFORMATION OR INSPIRATION?
Are you curious and would you like to see more of our luxury lounge sofas? Check out our lookbook! Find more information about the fabrics and composing your own lounge set in our brochure!