Is your garden ready for fall?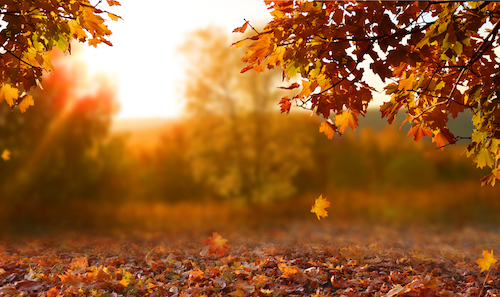 The autumn season has begun. That means the cozy and cozy autumn evenings are once again upon us. During this atmospheric period, you can (hopefully) still enjoy those very last days outside, perhaps with a thick blanket or a heater. In addition, for many people, autumn is the time to put away garden furniture. In this blog, we like to tell you how to make the most of autumn as well as how best to tidy up your furniture.
Make use of warm colors
Autumn is best known for its warm colors. Just think of the yellow and orange leaves on the trees, the brightly colored pumpkins during Halloween, the bright red mushrooms in the forest, and so on. These colors add warmth and atmosphere to the season. To make your garden fall-proof, these warm colors should definitely be reflected in your lounge area. This is not to say that you should immediately buy a red or orange garden set. Especially with the use of cushions and various accessories, you can make sure that the autumn atmosphere comes into its own in your garden.
Atmospheric touch
When looking for a new lounge set, a quiet base is always a good idea, especially if you like to create a different atmosphere each season. For example, with the help of pillows, candles and lighting, you can create warmth and put your own spin on it each season. In autumn, for example, you can choose pillows in moss green, ochre yellow, or reddish brown. These colors look incredibly beautiful in an autumn garden and immediately radiate warmth.
During autumn, of course, it also gets dark earlier. The long summer nights give way to dark cozy evenings. Your garden could use some extra light then, of course. We recommend mood lighting. These provide needed light, but also keep the atmosphere in your garden. Consider candles and lanterns, for example.
Provide (real) warmth
The pillows and other accessories naturally provide warmth and a cozy look. But it's also important to actually create warmth these months. So you can enjoy those lovely evenings in the garden just a little longer. The choice is vast. For example, you can choose from a fire table, a fire bowl, a fire basket, or an outdoor stove.
Protection in winter
Many lounge sets have to go inside during the fall and winter. Regular rain, freezing, and perhaps snowing are not good for the cushions and frames of most lounge sets. With a lounge set from Outdoor Lifestyle, you won't have this problem, as these can be left outside all year round. Thanks to the aluminum frame, the weather-resistant Sunbrella fabric, and the quick-drying foam as cushion filling, our lounge sets can withstand any type of weather. This makes for much fewer headaches and you won't have to worry about whether you've put the cushions away during a rainstorm.
Are you interested in a lounge set from Outdoor Lifestyle? Then contact us. Our specialists are ready to help you find the perfect lounge set.
Made with passion and pride.