Aluminum lounge set for the garden
When picking out your dream lounge set, you need to make the right choices. Thus, the material that forms the base of your lounge set is of great importance. Are you considering buying an aluminum lounge set? We are happy to explain to you why we are a big proponent of this.
The benefits
Extremely strong
No chance of rust
Light in weight
Permeable
Aluminum lounge set versus wood and plastic
Almost all lounge sets have a base of plastic, wood or aluminum. The main differences between them are price, quality and shelf life. Lounge sets with wood or plastic as a base almost always rot in the long run. The probability of collapse is already significantly present after 2 years. Aluminum, on the other hand, never rots or rusts and remains a super strong product. For this reason, we even provide a 10-year warranty on our aluminum frames.
The durability of an aluminum lounge set
Our aluminum frame is durable on several levels. First of all, the quality is superior so you don't have to look for a new lounge set after 3 years. Also, the raw material extraction of aluminum is much less harmful than other metals, and it is easy to recycle. Only a very small portion cannot be reused. Finally, the frame is durable in maintenance. The lounge sets are outside throughout the winter season, and as soon as the sun breaks through, all you have to do is clean the sofa with a soft brush and some soapy water. In no time you'll be back in the sun with your inner circle!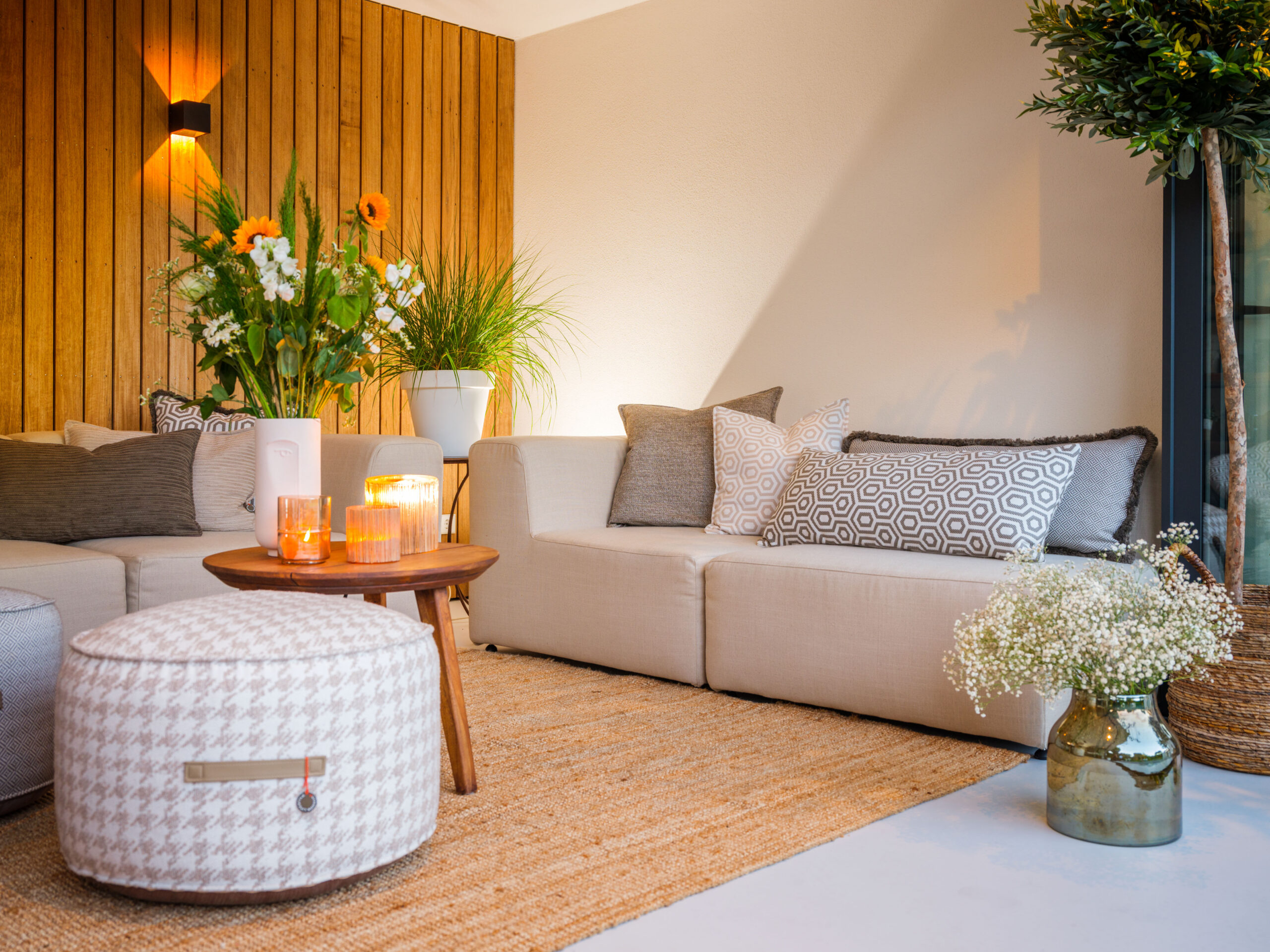 Why choose Outdoor Lifestyle?
The lounge sets can be outside all year round
The aluminum frame cannot rust or rot
The fabrics are and feel super soft
Water-permeable cushions so mold doesn't stand a chance
Aluminum year-round lounge set
The Outdoor Lifestyle lounge sets are unique thanks to the combination between an aluminum frame, the Quick Dry Foam and the high-quality upholstery with bv. Sunbrella fabrics. This allows the sofas to be outside all year round, a true all-weather lounge set!
All Sunbrella fabrics are water-permeable and dirt-repellent. Moisture always stays on the couch for a while first. Useful as soon as a glass of red wine loses its balance. In a heavy shower, water soaks through the fabric and is drained through the aluminum frame. It is also resistant to prolonged exposure to UV radiation from the sun. In short: you never experience color difference.
The weatherproof cushions are filled with Quick Dry Foam. This foam contains millions of, tiny holes through which water runs right through. This system ventilates itself and dries up nice and fast after a rain shower. The cooperation between the water-permeable fabric and the Quick Dry Foam ensures that the cushions never go moldy.
Quick Dry Foam is in all of our weatherproof cushions. Water runs straight through here and the foam ventilates itself, allowing everything to dry quickly after a shower. So mold never, ever gets a chance with a luxury lounge set from Outdoor Lifestyle!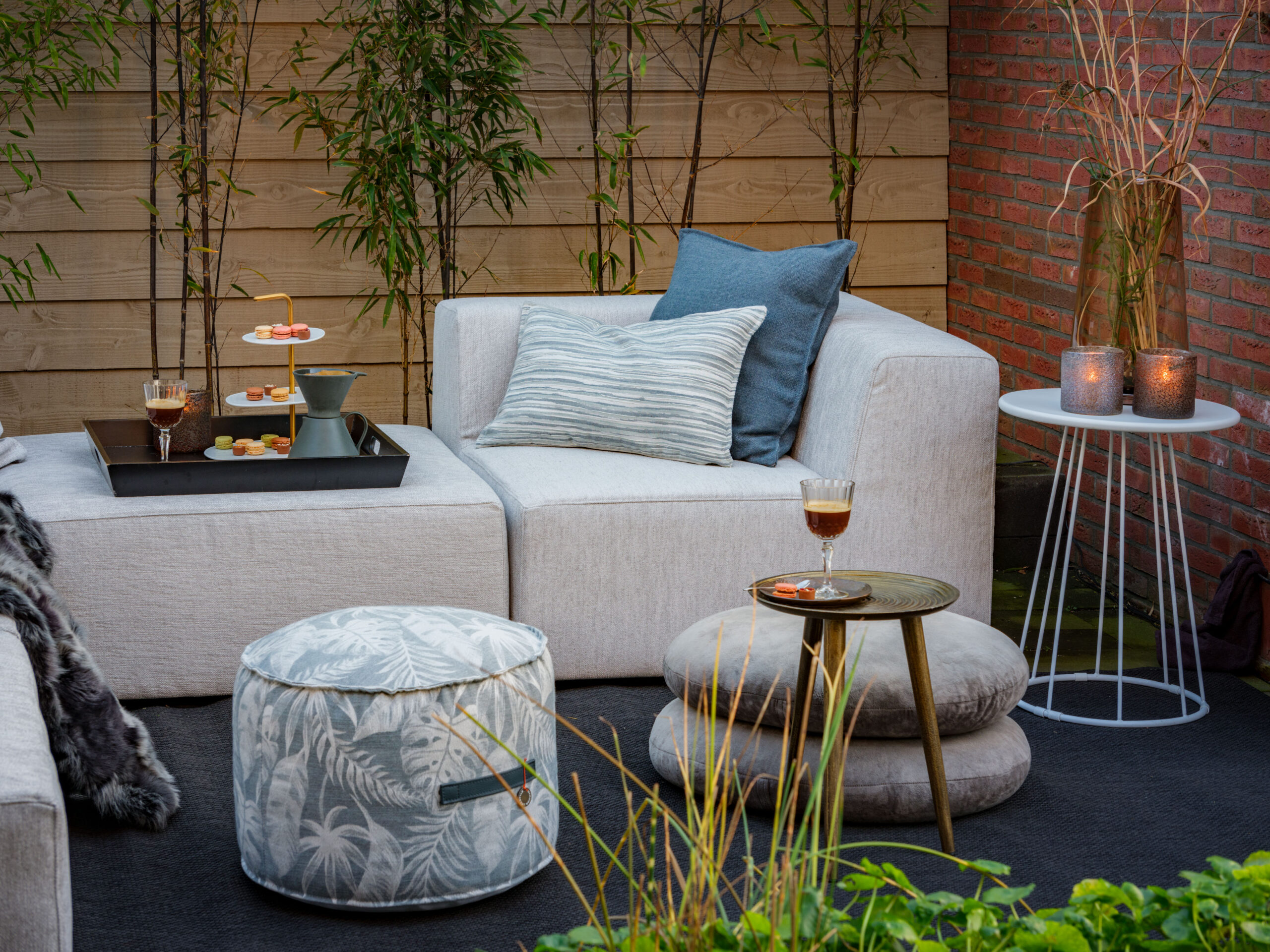 Produced in the Netherlands
Outdoor Lifestyle's aluminum frames are made in the Netherlands. The Dutch manufacturing company has generations of experience in the design and application of aluminum structures. Thanks to short lines and close cooperation, we can deliver your lounge set after just three weeks.
Want to know more?
Have questions about materials, rates, delivery, inspiration or anything else? Send us a message for an appointment or stop by our showroom. Outdoor Lifestyle can also stop by your home to take you through the story of our products.