THE IDEA BEHIND OUTDOOR LIFESTYLE
Outdoor lifestyle has been the specialist in all weather lounge sets
Our All-weather outdoor sofas are produced in the Netherlands and thanks to the use of a very sturdy frame, quality and colorfast fabrics, the sofas can stay outside all year round! Outdoor Lifestyle is the All-weather lounge set specialist in the Benelux.
Why outdoor lifestyle?
But how did this come about? There are countless lounge sets available anyway, why are we unique? We are happy to answer that!
From idea to execution
Years ago, Manon (the owner) and Arnoud were looking for a luxury lounge set for their garden. The lounge set had to meet the necessary conditions. Such as a deep seat to place their long Dutch legs on, the covers had to be stain-resistant and the color was (of course) also important. Arnoud & Manon would have loved a lounge set with beautiful earthy tone and colorful cushions, which would also remain their color despite the Dutch climate. But that was not all…
The cushions had to remain in the rain, as taking them inside every day was not an option because no one likes wet clothes when they sit down after heavy raining. And another thing: where would you leave those cushions?
The lounge set also had to be extremely stain-resistant and sturdy, as Arnoud and Manon often have friends over for a drink or BBQ. Wine stains but also leaves and other dirt should definitely not be visible.
The redeeming word of the seller: 'sorry, but this lounge set does not exist! Manon soon decided that eventually the lounge set would exist.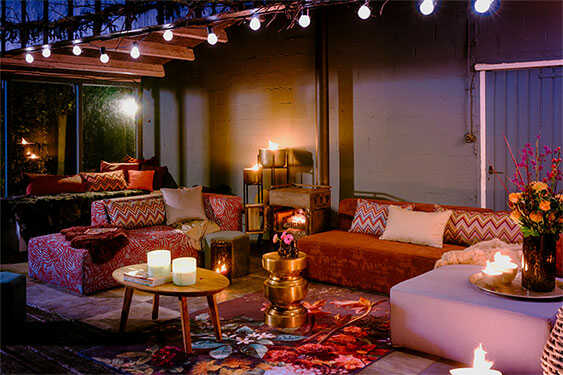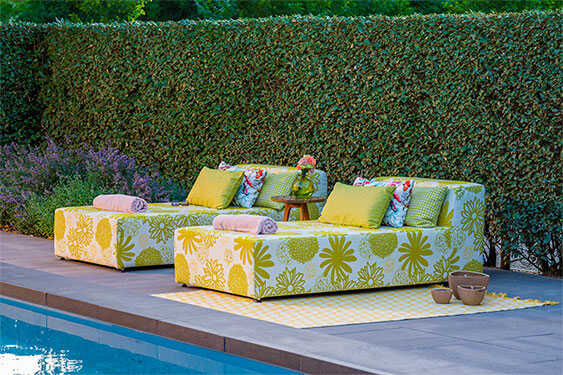 The development of the product
In 2006, we started drawing our own designs and after that we left for China. There. we had the plastic wicker furniture produced and for Chinese standards the quality was just fine…however, still not to our liking. Outdoor Lifestyle was created with the idea to design a sofa that would look great in the living room, and one that could also be used outdoor. Unfortunately, this was impossible in China.
Outdoor Lifestyle stands for the highest quality and therefore, sustainable materials had to be used. Beautiful fabrics that do not discolor, are easy to maintain and last for years. Using the highest quality foam, which can always remain outside without absorbing too much moisture and retaining water. But not only the fabric and foam were important, also the construction of the outdoor lounge set: a very strong aluminium frame that was to form the basis of the exclusive outdoor sofas. It was time to say goodbye to China and move the entire production to the Netherlands.
After more than 12 years of experience in outdoor furniture, Outdoor Lifestyle can proudly say that in 2008 the design of the exclusive All-weather Sofa is a reality. The All-weather Sofa meets the highest quality requirements and is suitable for long-term outdoor use. The trend from inside to outside has come about at Outdoor Lifestyle!
The benefits of Outdoor Lifestyle
Quality and Service
By using high quality and sustainable materials and working together with two family businesses, Outdoor Lifestyle delivers a product of the highest quality, each and every time. We do so by our shared vision and extremely fast communication and action.
Warranty
The longest warranty in the Netherlands at Outdoor Lifestyle! The warranty on the unique, water-permeable, aluminum frame is 10 years and 5 years on the Sunbrella fabrics.
Upholstering with an eye for detail
A beautiful product requires an upholsterer who understands what quality means. The upholstery company with which Outdoor Lifestyle collaborates, has been the trusted destination for traditionally produced project upholstery and car upholstery for four generations. Using modern technology, they cover the Outdoor Lifestyle All-weather lounge sets with craftsmanship and precision. Something to be proud of!
Extremely strong aluminum frame with a 10-year warranty
Colorfast and stain-resistant Sunbrella fabrics with a 5-year warranty
Quick Dry Foam; quick-drying foam that does not retain moisture/water
Available in more than 300 colors
Experience since 2006
100% Dutch product, from design to production
Adjustable legs
Comes with winter covers
For outside use 365 days a year
Follow us on our socials