[:nl]Het Sunbrella®-textiel wordt uitsluitend geweven met in de massa geverfde Sunbrella®-vezels. Deze door Dickson's Research & Development-team ontwikkelde nieuwe generatie acrylvezels is 'in de massa geverfd', wat betekent dat de kleurpigmenten al tijdens de productie van de vezels worden toegevoegd en niet, zoals bij de meeste garens en stoffen, pas nadien.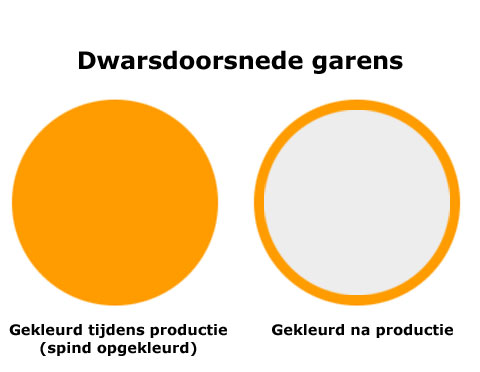 Dat is waarom de kleuren de tand des tijds zo goed weerstaan en zelfs na vele uren blootstelling aan zonlicht, maanlicht en allerhande weersomstandigheden niet verbleken. U kunt het vergelijken met het wortel effect, de kleur is door en door.Het radijsje zijn stoffen die na de productie zijn geverfd waardoor er verkleuring ontstaat. U kunt zelfs een fles chloor over de stof gooien, de kleur zal niet veranderen.
Sunbrella staat wereldwijd op nummer 1 als leverancier outdoor stoffen met de hoogste kwaliteit.[:en]The Sunbrella® textile is only woven with mass-dyed Sunbrella® fibers. This new generation of acrylic fibers developed by Dickson's Research & Development team has been dyed in the mass, which means that the color pigments are already added during fiber production and not, as with most yarns and fabrics, afterwards.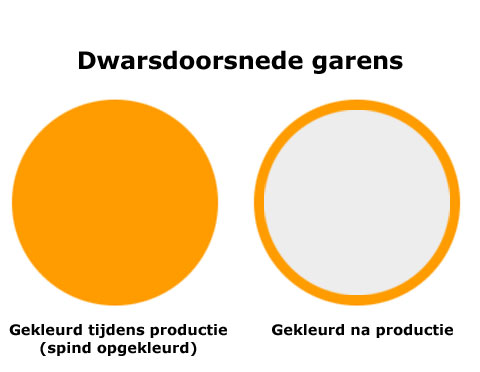 Sunbrella yarn
That's why the colors resist the tooth of time so well and even after many hours exposure to sunlight, moonlight and all kinds of weather conditions did not fade. You can compare it to the root effect, the color is on and off. The radish are fabrics that have been dyed after production, resulting in discoloration. You can even throw a bottle of chlorine over the fabric, the color will not change.
Sunbrella is the world's number one supplier of outdoor fabrics with the highest quality.[:]